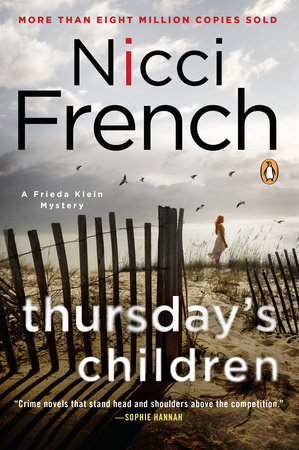 Part of the mesmerizing 7-book series starring London-based psychotherapist Frieda Klein, this gripping novel sends Frieda back to her teen years with worse results than the original. Teenager Becky Capel, whose mother, once a casual friend, asks Frieda to "talk" with the child, appears withdrawn and depressed. The mother had in mind "fix her and shut her up", but Becky confides something so startling and chilling that Frieda cannot ignore it. When the young girl commits suicide, Frieda goes against the mother's wishes and investigates. But it's more than the mother who doesn't want Frieda in delve into the past.
Where to stop talking about a book to avoid spoilers? As with all Nicci French books, they are densely plotted and chock full of fascinating characters. Not least of which is Frieda herself: brilliant, driven, single-minded, implacable when seeking to right a wrong. In this case, the wrong was done to Frieda and echoes into her present. When she arrives in Bradford, delving into the past proves to be much more dangerous than she anticipated.
The cast of supporting characters in this seven-book series is also fascinating, including an immigrant handyman who has a way with the ladies and a police inspector who goes to bat for her when the hostile hierarchy wants to dismiss her, and a mysterious but somehow gruesomely benevolent psychopath in the shadows. Excellent series with a marvelous protagonist.