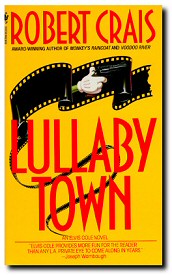 This third book in the Elvis Cole series no doubt cemented Crais's place as a master of suspense, tricky plots, dialogue ranging from near-slapstick wit to gut-wrenching, and razor-sharp action. There's also Elvis Cole, LA private eye and his awesome sidekick Joe Pike, plus a cast of characters both unique and humanly familiar. Crais, once a writer for TV series (Hill Street Blues, etc.), was no doubt exposed to a good number of inflated personalities while in Hollywood. His inciting character in
Lullaby Town
is one of them.
Peter Alan Nelson, wunderkind movie director, asks Elvis to find his ex-wife Karen and by now 12-year old son Toby. Underwhelmed by Nelson's egoism and self-absorbtion, Cole agrees with some reluctance. But Karen Nelson doesn't exist in public records. Cole digs deep and finds an old landlady, and a decade-old letter. From that point, the normal course of finding a long-lost person spins wildly out of control.
In a coast-to-coast tour de force of coincidence and violence, Cole and Pike must protect Karen and her son while dealing with hit men, pimps, cops bent and straight, and everything a mafia capo can throw at them. And Peter Alan Nelson, the consummate ego-driven jerk, spoiler, and character you'll want to give a good smack in the head with a two by four. The denouement is wrenching.
Fabulous read with non-stop action balanced by deep and complex character development. A five-plus stars! Read this award-winning series in order if you can, although each book is a satisfying stand-alone. A bnge read, however, will reward you with the always interesting life of Cole, his ups and downs, his loves and losses, everything that makes this hero a real hero. Pike, of course, is an enigma wrapped in a riddle (to coin a phrase). However you read these books, they will completely absorb you in the LA world of Cole and Pike.