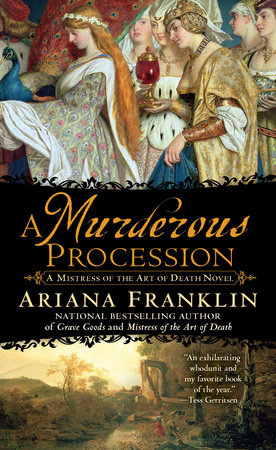 4/series Mistress of the Art of Death. Anatomist and physician Adelia Aguilar is ordered by King Henry II of England to accompany his pre-teen daughter to her future husband. The thousand-mile journey, fraught with more than merely danger from brigands, will traverse Queen Eleanor's French holdings as well as factions not under either monarch's control, including the unruly Cathars. In faxt, the unruly everyone. This was an age of every man for himself. Part of the young princess's dowry is the legendary sword Excalibur, which is coveted by Henry's sons as the emblem of their right to rule.
As the procession slowly wends its way south through France, from castle to monastery, Adelia must keep the princess safe, her own tiny daughter unscathed, everyone healthy, and hope that Excalibur, cleverly hidden, will safely arrive at its destination. But there is a murderer traveling with them, and Adelia must find him before he finds her. It's a 5, as are the other books in this compelling series.
The author does not have a website.
For more book reviews without spoilers, visit
www.nuts4books.com